Leos Box
Home 101 with Frankie @homeatthemoat
How do you make your home feel cosy?
That's an easy one..... my home feels cosy if the dogs are with me! The house always feels so empty if they're not around!! From an atmospheric perspective I try to create a cosy space through the use of colours that are calming, adding throws for texture and a nice smelling candle. I keep all these things consistent throughout the year but I do like to change up my colours and scents to match the season. I also love to light our wood burner in the winter months. 
How do you create a theme for each room?
Two things really..... the function of the room and how I want to feel in the room. So for example, we have just created a 'dog room'..... essentially this room is all about the dogs so it has to be practical. The floor needs to be easily cleaned and I've painted the walls dark to hide the dirt a bit more easily!! Just being honest!! Muddy, wet paws and white walls are not the best match!! When thinking about the 'mood' of a room, if I give my bedroom as an example, I wanted it to feel like a place of calm but also luxurious. Again I created this through the use of different textures and colours.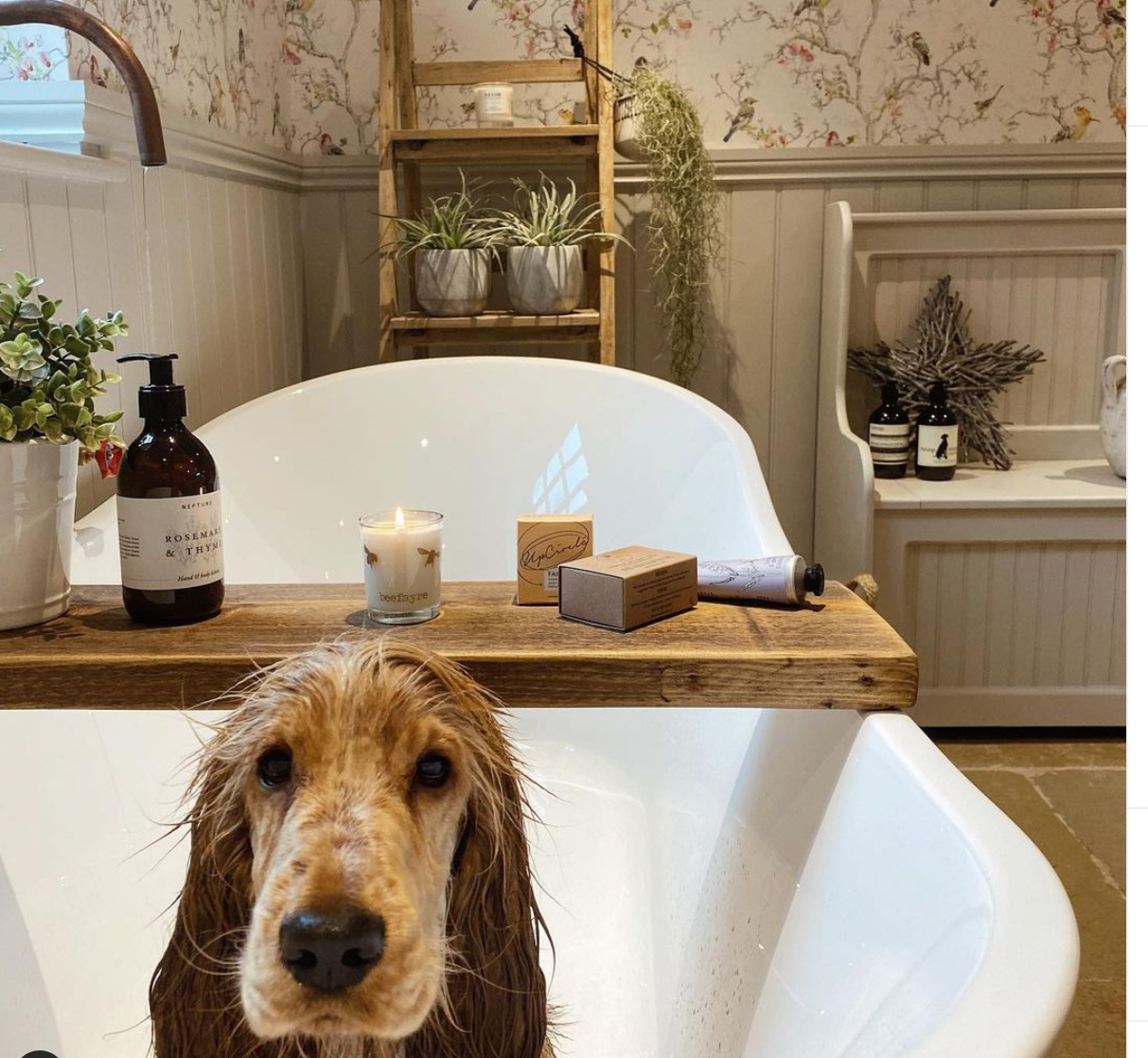 What cleaning tips do you have with so many dogs?
For me, keeping the house as clean as I would like it and working a full time job feels near on impossible!! I try to do little and often. I focus on the spaces where I spend most of my time. I like to make sure the kitchen worktops are always wiped down and the bathrooms are clean. I have to be honest my cleaning standards have slipped more recently as I've found keeping motivated during this lockdown a real challenge and as much as I like the house to be clean I am actually quite a messy person; something I'm working on!! 
What is the biggest struggle you've faced with making your home sustainable?
Transparency from brands is a big one for me. I feel like I have to google brands to find out about their ethos and sustainability. 
What have you tried to do to make your home more sustainable?
I know recycling alone actually isn't the answer to sustainability and may actually be feeding into part of the longer-term problem in some ways, however recycling for me has really made me more mindful of the choices I make and thinking about where our waste goes. It's also made me think about some of the decisions that I make..... for example when buying skin care and cleaning products I try to make a conscious choice to look for products that are eco-friendly. Made locally. Cruelty free. I appreciate this isn't always easy or achievable (and I know this is a drop in the ocean and I could do a lot more) but I'm certainly more mindful of trying to make better choices for our planet. 
What are your favourite Leo's products?
I absolutely adored my box. From the candle to the skin care to the seeds to scatter. I loved it all. 
We loved getting to chat with Frankie and if you don't follow her on instagram then we'd really recommend it. Her home is just divine! @homeatthemoat
17 Feb 2022